04:56
Rent inflation highest since 2016
Rents are rising at the fastest pace in almost six years, adding to the pressures on housesholds.
The ONS reports that private rental prices paid by tenants in the UK increased by 2.4% in the 12 months to March 2022, which is the largest annual growth rate since July 2016.

But rents jumped by 3.3% if London is excluded, the ONS say:
London's rental price growth in March 2022 (0.4%) remains the lowest of any of the English regions.

This reflects a decrease in demand, with remote working shifting housing preferences as workers no longer need to be close to offices.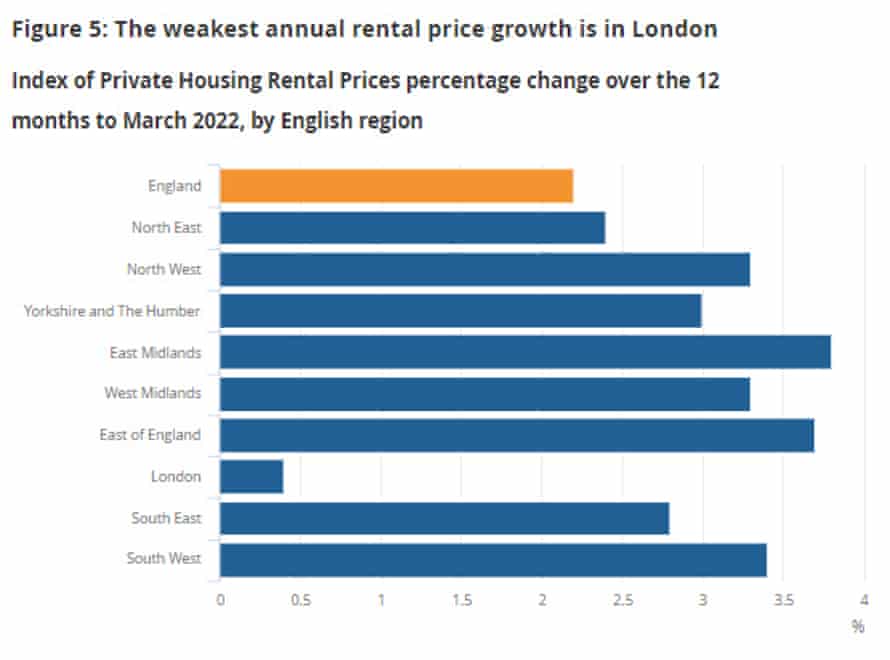 Reuters' David Milliken has points out that motor fuel prices (+30.7%) and clothing and footwear (+9.8%) both saw record price increases in March:
04:43
Food inflation highest since September 2011
The jump in food and non-alcoholic drink inflation to 5.9% means prices are now rising at the fastest annual rate since September 2011.
As well as the 18% surge in oil and fats compared with March 2021, the inflation report shows that bread rose 5% over the year, pasta products and couscous jumped 10.1%, and low-fat milk prices jumped 14.2%.
Meat prices were up 5.6%, fish by 4.7%, fruit by 5.4%, and ready-made meals by 7%. Within drinks, mineral and spring water prices jumped 15.8%, with fruit and vegetable juices 10% higher.
The surge in agricultural prices triggered by the war in Ukraine means food inflation could soon climb to 7.0%, warns Ruth Gregory of Capital Economics.
These price changes are based on the ONS's inflation basket, which tracks price changes for around 730 goods and services across the UK.
Food writer and campaigner Jack Monroe warned earlier this year that poorer families were seeing much sharper increases, as budget food ranges were removed.
Price of oils and fats for food increased by 7.2% in March alone, and were up 18.1% over the last year, the inflation report shows.
That includes a near 35% annual increase in prices of margarine and other vegetable fats.
Ukraine is the world's main supplier of sunflower oil, followed by Russia, and the war has driven up global prices and disrupted supplies.
The retail price index meaure of UK inflation rose even more rapidly, hitting 9% per year in March, the highest since 1991.
Although RPI is no longer a national statistic (the ONS says it isn't a good measure of inflation), it is still used in many commercial contracts, in wage negotiations, and to set the interest payment on index-linked government bonds.
03:48
TUC: UK needs emergency budget
The TUC union are calling for an emergency budget to help struggling households, including more help on energy bills.
TUC General Secretary Frances O'Grady says:
"The chancellor has done almost nothing to help families as prices surge.

And by holding down pay in the public sector and cutting universal credit, he has made the crisis worse.

"Families need help now. Whoever is chancellor tomorrow should go to parliament with an emergency budget to help with surging energy bills and to get wages rising."
Chancellor of the Exchequer, Rishi Sunak, has warned that the Russia-Ukraine war could exacerbate inflationary pressures:
"We're seeing rising costs caused by global pressures in our supply chains and energy markets which could be exacerbated further by Russian aggression in Ukraine.

"I know this is a worrying time for many families which is why we are taking action to ease the burdens by providing support worth around £22bn in this financial year, including for the most vulnerable through our Household Support fund. We're also helping as many people as possible into work – the best way for families to gain economic security in the longer term."
But Sunak continues to face heavy criticism for not providing more help in last month's Spring Statement, with households facing the biggest cost of living squeeze on record.
That lack of support for low-income families will push another 1.3 million people into absolute poverty next year, Resolution Foundation warned last month.
Universal credit, and state pensions, only rose by 3.1% this month (in line with last September's inflation rate), even though inflation was already double that level.
Katie Schmuecker, deputy director of policy & partnerships at the Joseph Rowntree Foundation, says this will mean 'deepending hardship' for struggling families.
Economist Simon French of Panmure Gordon warns that inflation could peak at 10% this year:
Prices at restaurants and hotels jumped 2% between February and March 2022, the largest monthly change since the ONS data started in 1988.
This came principally from the rising cost of alcoholic drinks served in restaurants, cafes and public houses, and from accommodation services.
Kitty Ussher, chief economist at the Institute of Directors, said:

"It seems that when people re-started their social lives as restrictions ended in March, the places they visited were able to pass on their own higher costs to their returning customers."

Kate Nicholls, CEO of UKHospitality, warns that hospitality firms are already seeing double-digit cost increases.
The end of the temporary cut to VAT, from 20% to 12.5%, at pubs, cafes, bars and restaurants this month will also push up prices.
Here's a breakdown of the factors driving UK inflation to a 30-year high of 7%:
Food and non-alcoholic beverages: 5.9%
Alcoholic beverages and tobacco: 4.8%
Clothing and footwear: 9.8%
Housing, water, electricity, gas and other fuels: 7.7%
Furniture, household equipment and maintenance: 10.3%
Health: 2.5%
Transport: 13.4%
Communication: 0.7%
Recreation and culture: 4.9%
Education: 4.5%
Restaurants and hotels: 6.9%
Miscellaneous goods and services: 1.9%
UK factories were also been hit by surging raw material costs, and continued to lift their own prices.
Input costs paid by producers rose by 19.2% in the year to March, the ONS reports, the highest rate since records began in January 1997.
In March alone, the rate of input inflation was 5.2%, up from 1.8% in February, which is also a record increase.
Metal products and crude oil were the main factors, due to the surge in commodity prices since the Ukraine war began.
The ONS says:
Crude oil and gas prices continue to rise, driven in part by global geopolitical tensions, including the conflict in Ukraine and trade restrictions with Russia.

These rises are passing through to factory gate prices for heavy industry, such as the manufacture of metal products, reflecting the importance of oil and fuel in their input costs.
Producers increased output prices by 11.9% compared to a year ago (the highest rate since September 2008), which will feed through to higher prices for consumers.
These charts highlight how prices have been surging: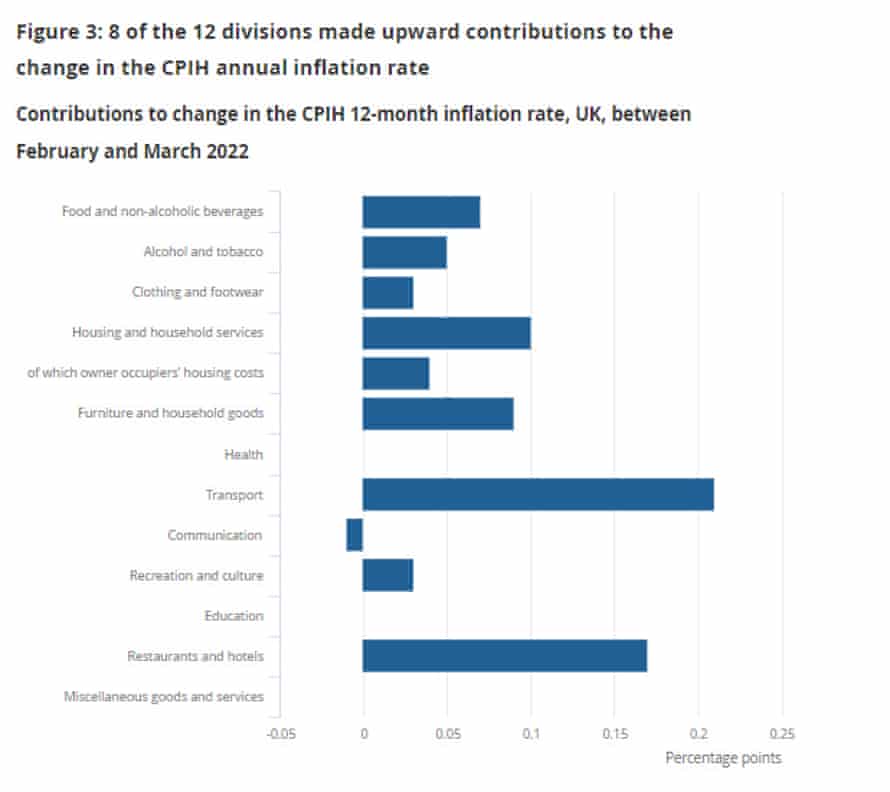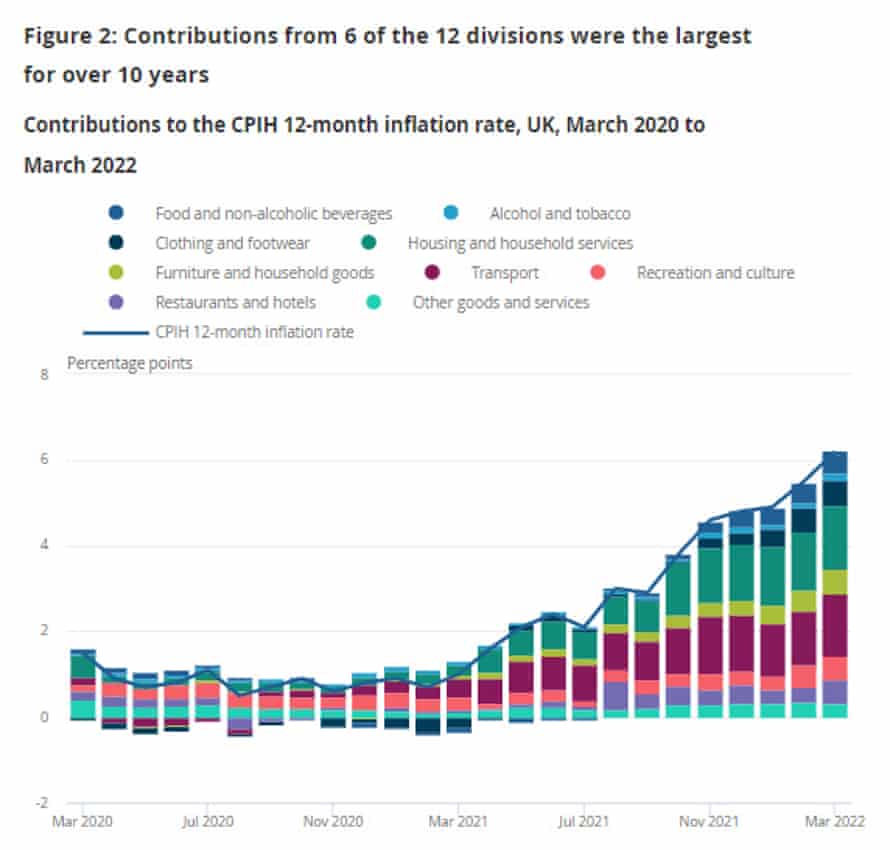 Energy costs have also soared over the last year.
Gas prices were 28.3% higher in March than a year ago, while electricity was 19.2% higher.
That, though, doesn't include the latest increase in the price cap, which lifted average bills by 54% for around 22 million households this month.
Prices of kerosene for domestic heating rose by 44.0% between February and March 2022. Heating oil is not covered by the Ofgem price cap, so households who rely on kerosene (often in rural areas) have seen costs spiral in recent months.
The jump in motor fuel prices to record highs drove inflation up in March, the Office for National Statistics reports.
Average petrol prices were 160.2p per litre in March 2022, compared with 123.7 pence per litre a year earlier.
Diesel also hit a record in March, at 170.5p per litre, after Russia's invasion of Ukraine drove up oil prices.
The ONS says:
Average petrol prices rose by 12.6 pence per litre between February and March 2022, the largest monthly rise on record (since 1990). This compares with a rise of 3.5 pence per litre between the same months of 2021.

Similarly, diesel prices rose by 18.8 pence per litre this year, compared with a rise of 3.5 pence per litre a year ago.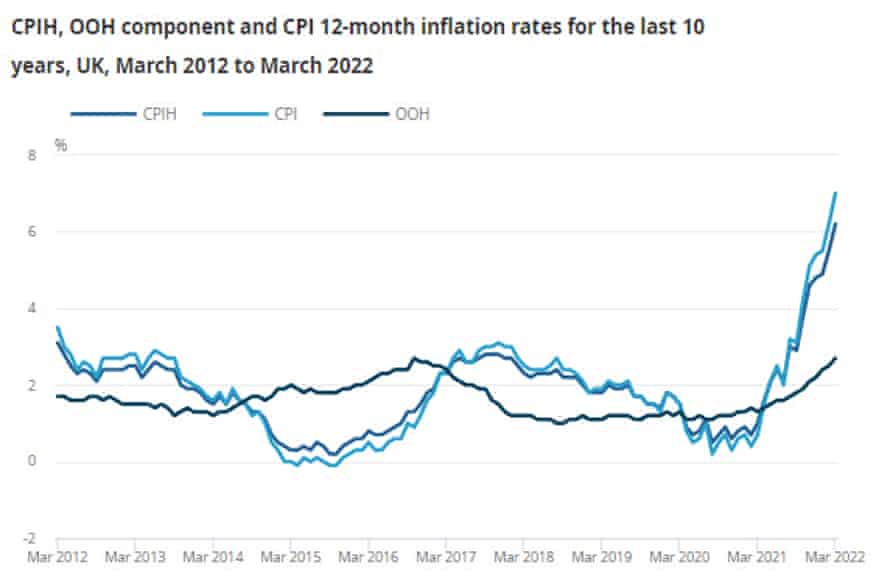 ONS chief economist, Grant Fitzner, says 'broad based' price rises drove inflation up to 7% last month.
02:07
Introduction: UK inflation hits 7%
Good morning, and welcome to our rolling coverage of business, the world economy and the financial markets.
UK inflation has accelerated to a new 30-year high, deepening the cost of living crisis.
Consumer prices jumped by 7% in the year to March, up from 6.2% in February, figures just released show, as living standards continue to be squeezed.
That's the highest CPI inflation rate since March 1992, and higher than expected, as energy, fuel and food continue to rise sharply.
On a monthly basis, CPI rose by 1.1% during March.
This jump in inflation means workers are taking a real terms pay cut. Total pay (including bonuses) rose by 5.4% per year in the three months to February, while regular pay rose 4%.

Inflation is expected to rise again in April, possibly over 8%, due to the 54% increase in the energy cap. That will intensify the pressure on households, with economists predicting this will be the worst parliament on record for living standards growth.
Inflation is hitting business confidence too. Sentiment among financial services firms has dropped at its quickest pace since September 2019, the latest CBI/PwC Financial Services Survey released this morning found.
Inflation is also a global problem right now – in America it climbed to 8.5% last month, a 40-year high, as gasoline and food prices jumped.
And overnight, it has prompted New Zealand's central bank to raise interest rates by half a percentage point, its biggest increase in 22 years, after inflation there hit 5.9%
The agenda
7am BST: UK consumer inflation report for March
7am BST: UK producer prices inflation report for March
9am BST: IEA releases monthly oil report
9.30am BST: UK house price index for February
3pm BST: Bank of Canada sets interest rates