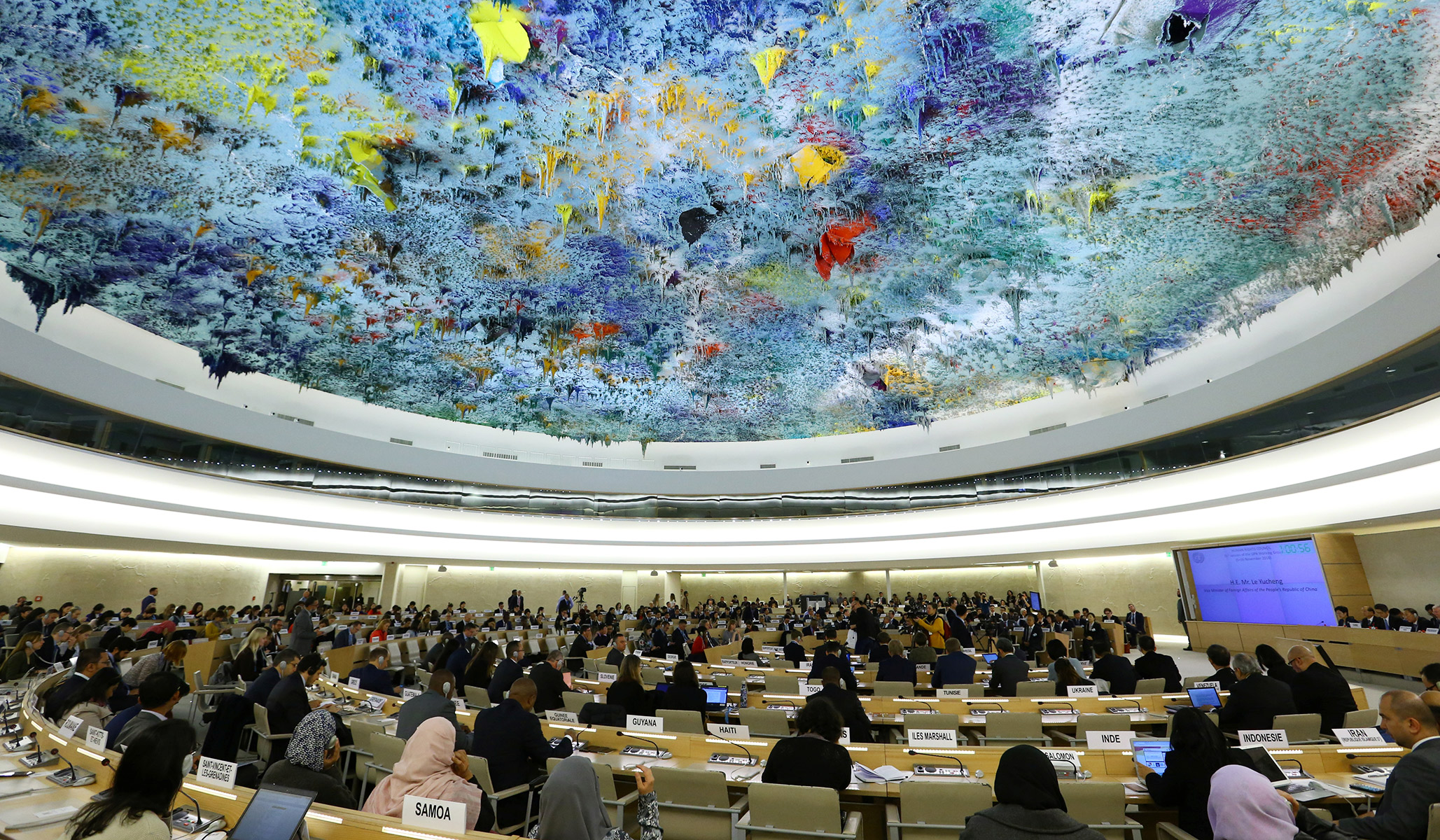 The Economist has an interesting piece analyzing the prospects of a potential U.N. Human Rights Council resolution condemning the Chinese Communist Party's human-rights abuses. China won reelection to the council, which counts a number of other systematic human-rights abusers among its members, for a term that began last year. The U.S. rejoined the body for a term starting this year after the Biden administration reversed a Trump-era decision to withdraw from, and end U.S. engagement with, the body.
The multilateral clash that results might yield some marginal victories for Washington, but it's more likely to reveal the shortcomings of the Biden administration's decision to legitimize the council.
Although no U.N. body has ever passed a resolution criticizing Beijing's human-rights record, America's return "could help matters," the Economist contends, because Western countries have started to push back against Chinese efforts to use the body to its advantage: "America and its allies are also busily urging [High Commissioner for Human Rights Michelle Bachelet] to produce her long-awaited report on Xinjiang, which would be useful fodder for the council." But the piece also notes that there's ample reason to worry:
It remains unclear if the Biden administration will press ahead with a resolution against China in its first year back. Some governments inclined to support America worry that a confrontation with China would polarise members and jeopardise the council's other work. And a resolution might be defeated, which might embolden China. "I know the us diplomats here are constantly thinking about numbers, about would they get something through," says Marc Limon of Universal Rights Group, a think-tank in Geneva.
In rejoining the body, the Biden administration has granted it a veneer of respectability. Secretary of State Antony Blinken, for example, announcing the U.S. decision to seek a three-year term as a council member last February, called it "an important multilateral venue dedicated to furthering international human rights efforts." As Blinken well knows, though, the council is severely flawed. In fact, he also acknowledged the body's "unacceptable bias against Israel and membership rules that allow countries with atrocious human rights records to occupy seats they do not merit," pledging to strive toward reforming it. He and other Biden officials argue that it's easier to advance reform efforts from the inside.
But the only way to justify publicly reengaging with a U.N. body that routinely grants the world's worst human-rights violators an international platform is to win passage of resolutions that criticize the very wrongdoers that vote on council resolutions, and to enact reforms blocking them from future membership.
Neither of these things seems particularly likely to occur. The advantages the U.S. gains from rejoining the council are likely to be meager. Maybe a stepped-up U.S. focus on the proceedings in Geneva could allow Western countries to play better defense against authoritarian efforts to pass odious resolutions endorsing the Chinese Communist Party's language on human rights, as the Economist suggests. That would be an improvement from the situation in 2018 when Washington, still a UNHRC member at the time, failed to rally members against a Chinese-led resolution. But, if history is any guide, structural reform of the council will be harder to come by, since the U.N. won't be barring countries with abysmal human-rights records anytime soon. That lack of potential for far-reaching, structural reform makes the Biden administration's decision to reengage complicated to execute and particularly tough to defend.