O rganizations count on leaders who can inspire their people to achieve greatness — people who can expand a group's reach or a company's bottom line while improving their communities.
We asked three New Hampshire executives about their leadership journeys.
Diane Fitzpatrick, 55
CEO, Boys & Girls Club of Manchester
Are leaders born or made?I believe that leaders are both born and made. Working at the Boys & Girls Club, you see kids with social power and confidence to lead others. But you also see quieter, more reserved kids finding ways to discover their voice and lift their club. While some might be born with natural leadership skills, I believe leaders develop through experiences, determination and passion.
What makes a good leader?
The most critical characteristic of a good leader is adaptability. Over the past two years, we have often seen this as leaders pivoted and adjusted to ensure their organization's success and relevancy. I also believe leaders continuously find ways to learn and grow, have the ability to inspire others into action and are never afraid to show empathy.
What personal characteristics do you tap?
My passion! I love my job of serving kids and lifting families in this incredible community. I believe my passion for the Club filters through my amazing Club team and dedicated board of directors.
What influenced you to become a leader?
I have never made career decisions based on the "easy" choice. Instead, I work hard and seek to understand, using my experiences, training and education to make myself a vital employee and firm leader.
Was that a goal or something that evolved?
I always believed I could lead. While I didn't set out to be a CEO, challenging myself in the roles that led me to the Boys & Girls Club certainly helped evolve me as a leader.
Who helped you the most along the way?I had a wonderful guidance counselor in high school named Pat who told me I had potential. Her words inspired me to think big and grew my confidence. That was my first experience of mentorship.
Have you mentored other potential leaders?
Leadership is all about relationships. I believe in shared leadership and do my best to empower those around me to be their best, learn from their mistakes, and have confidence in the decisions they make. In addition, it is essential to celebrate people's passions and encourage professional growth, even when it means moving on from our organization.
Michael Skelton, 39
Incoming president and CEO of the Business & Industry Association of New Hampshire and departing president and CEO of the Greater Manchester Chamber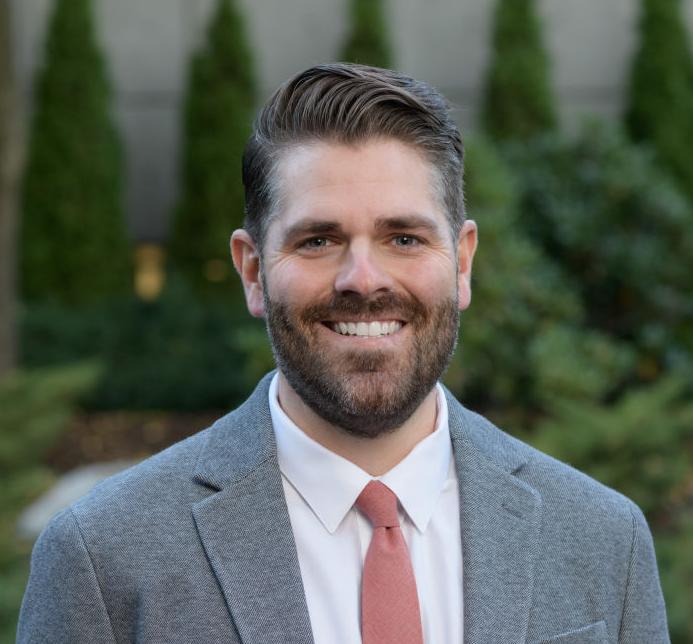 Are leaders born or made?
Everyone is born with the ability to be a leader, but the values, leadership style and one's ultimate effectiveness as a leader are forged throughout a career and lifetime of experiences.
What makes a good leader?Awareness and understanding of characteristics, priorities and needs of the team you are leading. Good leadership can take on many forms or styles, but ultimately it has to be well aligned with the team or group you are responsible for leading and the vision and goals you are all seeking together.
What personal characteristics do you tap?I try to ensure that empathy is always present in my leadership style. Being objective and open to the perspectives, feelings and ideas of others is essential to developing a strong interconnected team as well as finding common ground and building consensus with those you might disagree with.
What influenced you to become a leader?
Leadership was an ideal that I got to observe early thanks to my experience in Scouting. I think that created a strong foundation and level of interest for me that I carried forward as I started my professional career. Politics, public policy and advocacy were early potential career interests of mine because they seemed to offer leadership opportunities that might not open to me on other paths.
Was that a goal or something that evolved?My interest in leadership evolved based on the opportunities I was offered as my career progressed. The chamber industry along with working in media relations for a large public utility afforded me unique opportunities to continually grow as a leader. Without those experiences, I don't think I would be the same type of leader that I am today.
Who helped you the most along the way?
First and foremost, my parents instilled good values and provided opportunities for me growing up to grow as a person and a leader. My experience in Scouting was foundational to becoming the person I am …. One (leader) in particular that comes to mind is the late Gary Long, former president of PSNH. Gary was a remarkable leader, and a piece of advice he gave that has stuck with me was the value of seeking out challenging and complex career opportunities, as those are the times you test yourself and grow the most.
Have you mentored other potential leaders?
Part of good leadership is helping others on their journey like others helped you. I've tried to ensure I do that, both with my team and others in the community who reach out seeking help. I've had the good fortune of having a lot of help along the way, and I owe it to those who helped me to try and pass along what I've learned.
Stephen Reno, 77
Executive director of Leadership New Hampshire and former chancellor of the University System of New Hampshire, 2000-2009
Are leaders born or made?Leaders are both born and made: "born" in terms of the family and circumstances in which they grow up, including opportunities available to them and encouragement offered, but "made" in terms of how they respond to conditions and incidents of their lives in which they can exercise skills and be recognized for it, thus creating a following.
What makes a good leader?A good leader needs enough skill and self-confidence to step forward when opportunities or challenges are presented, but not so much ego that s/he is solely driven by self-aggrandizement.
What personal characteristics do you tap?I most rely on the trust others have placed in me and in the talent and expertise they offer me in my role.
What influenced you to become a leader?
That's a tough question to answer with precision and there were several over my life who encouraged me to step forward. One of the earliest was my high school PE teacher who encouraged me to run for student government. Over a 50-year career, there have been so many others. I am in debt to them.
Was that a goal or something that evolved?In the case of the high school teacher, it was to seek a goal, namely elected office. In later years, it was the encouragement of fellow professors to seek administrative positions.
Who helped you the most along the way?
The first provost (academic vice president) who hired me, Dr. J. Edward Kormondy. He was my mentor 'til his death two years ago. There have been many others, however, too many to mention here.
Have you mentored other potential leaders?
Absolutely! One of the most gratifying experiences of being in a leadership position is that of recognizing talent in those who report to you (or who you know well) and encouraging them to seek new challenges and positions, even when it may mean losing them from one's own team. I cannot count the number of letters of reference or recommendation I have written.